This is a Sponsored post written by me on behalf of Wonder bread for SocialSpark. All opinions are 100% mine.
What's for breakfast? Wherever we are in the world, the same question arises when we get up in the morning. Our first meal of the day is as diverse as language, as intimate and meaningful as the way we look forward to what the new day brings.  For my family, during weekdays, I just prepare our morning meals that are easy to prepare, a breakfast that my kids would surely love.  Egg is a precious breakfast, so I usually prepare Wonder Omelet Sandwich using the Wonder bread for my family.
Anyway, here's the recipe of my family's favorite breakfast.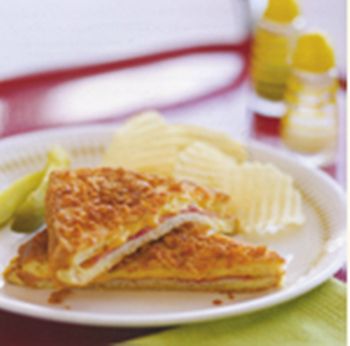 Wonder Omelet Sandwich
Ingredients:
4 to 6 tablespoons butter, at room temperature, plus 1/2 cup butter or margarine, melted
16 slices Wonder® bread
     - Use Wonder Classic White bread if you are craving for calcium
     - Try Wonder Made With Whole Grain Wheat bread if you are craving for whole grains.
 8 thin slices cooked ham
6 eggs
8 slices cheddar, American, or Swiss cheese
3 cups milk
1/2 teaspoon dry mustard
1 cup crushed cornflakes or potato chips
Salt to taste
 Preparation: (In the evening)
Butter lightly one side of each slice of bread, and then top 8 slices of buttered bread with a slice of cheese and a slice of ham. Now, top with a second slice of bread, buttered side down. Arrange the sandwiches in a greased 12 x 18-inch open roasting pan or 11 ½ x 17-inch jelly-roll pan. Whisk all together the eggs, mustard, milk and salt, and pour it slowly over the sandwiches. Cover the pan and refrigerate it overnight.
Preparation: (In the morning)
Preheat the oven to 350°F. Mix together the cornflake crumbs and melted butter; sprinkle over the top of the sandwiches. Bake but remove the cover for 1 hour; or until golden brown.
 Before anything else, the Smartwhite for kids was launched only this summer, and they offer a nutritional advantage with the delicious taste, and the soft texture that the kids would surely love. It is baked, free from high-fructose corn syrup, and it has 50 calories per slice only. In addition, it's fortified, and has 100% fiber the whole wheat bread, and it contains calcium equivalent to an 8-ounce glass of milk, and is an excellent source of nine essential vitamins and minerals.
No wonder why this bread has been called as The Sandwich Wonder-izer! Wonder bread has been known for over 90 years, and your family will always love them for they maintain the nutritious, delicious and the softness of the bread, but now, your family would surely love the other 20 different varieties of the Wonder Bread. If you want to make your own sandwich or looking for recipe using the Wonder-izer!, "like" Wonder bread on Facebook, or "follow" Wonderb, or use the @wonderbread handle on Twitter.