How was your weekend everyone? I hope it was great. Mine was just a busy one, but I was glad that I was able to finish all the important things here before I leave. I also had a great bonding with my kids. We ate out, shopped for their things, and we had a great day yesterday. Anyway, I will be leaving this afternoon going to Manila, and tomorrow early in the morning, around 6:00, I will be flying going to Sweden. I wish I will have a nice trip along the way. And for today's meme, here's my entry for today.
Janjan and I went to the seaside here in our place, but we brought a durian and ate it there. Since, the whole durian is heavy, I asked the seller to put it in a plastic bag or cellophane, so we could bring it inside.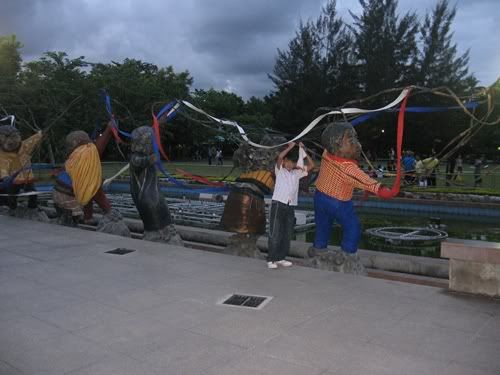 This was taken when we were at the other park here in our place. This is far from the sea. Janjan loves this place at night because of the dancing fountains. We came late in the afternoon, and then we went home when the dancing fountain stopped.