Blue Monday - Pots in the Garden
It's Monday morning here and so far, we have a bright sunny morning. I wish, we all have a great day today. Anyway, it's time to show our blues, and this is my share for today. I snapped this when we were at the park here in our place. I was glad that when I took this photo, there were only few people walking around. Sometimes I got annoyed when the people keep on walking in front of you and didn't mind that you were ready to take pictures of your subject. I had to wait until they were all gone in front of you.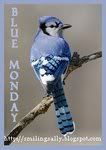 Don't forget to visit Smiling Sally for more beautiful Blue entries.