It's a first day of the week again which means, it's time to post our blue photos as an entry for our Blue Monday Meme hosted by Smiling Sally. Here is my entry for today.
I saw this photo hanging on the wall at our lawyer's office. Our lawyer loves collecting coins and bills from other countries. Since we have family living abroad, she also asked if we could add to her collection any amount of coins from my brother in Canada. She was so happy when my mother gave her coins from Canada. I also love collecting coins from other countries, but I just keep it to my box. Now, our lawyer gave me a bright idea with my collections. lol.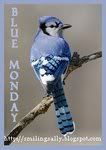 Don't forget to visit Smiling Sally for more BM photos.