Blue Monday- Grotto of Virgin Mary
A few weeks ago, I saw my uncle working in their front yard. I had no idea what he was doing at that time, and I didn't bother to ask him too. A few days later, when it was almost done, I have learned that my uncle was making a little grotto of the Virgin Mary. I was surprised when uncle made that grotto because I thought they are going to build another house on that area. When I asked my aunt who got that idea to put a little grotto, she said, it was her. Anyway, this grotto has automatic blue lights at night, and it will automatically be turned off in the morning.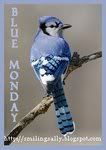 See more Blue entries @ Smiling Sally's site.