What do you think of a woman will do if she caught her boyfriend dating with the other woman? Will she be like this woman in the picture? Choking the man while she was all smiling?
Sorry guys, I admit it. I am not a good actress. The photographer (Vernz) asked me to do an act of being angry because I caught my boyfriend talking this beautiful woman. But, I couldn't because it will just ruin my day, and it will also create wrinkles if I get mad, so I'd better smile at the photographer while choking my unfaithful boyfriend. lol
So, the next day, I went to the sea planning to jump and drown myself to the ocean, but I remember that I am a good swimmer, so I stopped and whispered to myself: Stop dreaming Katherine, wake up, this is only your entry for Blue Monday meme hosted by Smiling Sally.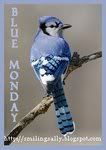 Have a great week ahead everyone.