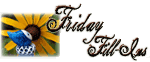 So...here we go!
1. What in the world
could you make you happy?
2.
I make sure that my kids are
well fed.
3. Go
and follow your dreams.
4.
Social Spark V1
sent
me money the other day.
5. I keep
on watching my diet this season.
6.
I am invited for a swimming party tomorrow and I am not sure if I will decline the invitation
or not.
7. And as for the weekend, tonight I'm looking forward to
blog hop
, tomorrow my plans include
send Janjan to a birthday party of my godchildren, a twins
and Sunday, I want to
relax at the salon hehe!
AND/OR
19. IDOAWCJLTOIUTK: I'm Dreaming Of A White Christmas, Just Like The One I Used To Know
20. CROAOFJFNAYN: Chestnuts Roasting On An Open Fire, Jack Frost Nipping At Your Nose
21. IBTLALLC: It's Beginning To Look A Lot Like Christmas
22. OLTOBHSWSTL: O little Town Of Bethlehem, How Still We See The Lie!
23. SBRAYLITLSIG: Sleigh Bells Ring, Are You Listening, In The Land Snow Is Glistening.
24. IBHFC: I'll Be Home For Christmas
25. WWYAMCWWYAMC: We Wish You A Merry Christmas, We Wish You A Merry Christmas
26. IHTBOCD: I heard The Bells On Christmas Day
27. FTSIAJHS: Frosty The Snowman Is A Jolly Happy Soul
Have a great weekend everyone!