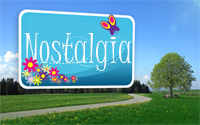 Hallelujah, I thought I will wait for 24 hours before my internet connection be fixed, but it is working now. When I connected my computer to my ISP this morning, I always got a message "connect PPP failed". I had tried so many times, but it was still the same. So I decided to call my ISP. The company told me that there was a technical problem, and they are trying to fix it within 24 hours. I am glad that when I checked this afternoon, the connection is back.
Anyhow, today is our Nostalgic Meme, I thought I can't join this today. I even left a message to Rose, the host of this meme that I can't join today for I don't have I/C. I am sure Rose will be happy if she will see my entry today. Well, here's my entry today. If you are my frequent reader, you probably read the "Light, Camera, Action". It was my entry a few months ago, but there were no pictures on that entry. Now, here are the pictures that you were asking before.
Me and Ruffa
Me and Robin on Maricel Drama Special
Me when I was younger, the frustrated singer and actress.lol.