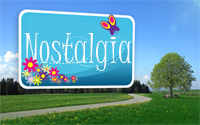 Thanks to Rose,the host of this meme.
This morning I went to internet café just to scan my old pictures that my niece found from my mother's box but sad to say, I forgot to pick it up this afternoon, so probably I will post it on Thursday. I didn't know that she still has our pictures when we were young. My niece was so excited when she found the pictures. It was me, my youngest brother, my father and our dog on the picture. She was laughing out loud when she saw that her "lolo" (grandfather) looks like his Uncle Roy (my brother).
I was 14 years old on the picture and my brother was 7 years old. I was laughing too when I saw my brother's picture because he looks like Janjan when he was small. Janjan on the other hand, was confused who was the young boy on the picture that looks like him ha ha When I asked him the people on the picture, he pointed one by one and said, this one is "lolo" (grandfather), this one is "lola" (grandmother), this one "I don't know but he looks like me" and this one is a dog.
Jason and I were laughing out loud because he pointed me on the picture and said it was his grandmother?!? Waaaaaa Oh! My gulay! I can't accept the fact that I look like my mother. No way highway! Holy cow carabao! My mother was laughing too when see heard from Janjan that it was her on the picture and not me. Waaaaa masaya sya na kamukha ko daw sya!?! Hindi maaaring magka mukha kami!!! Haha.
Well, honestly, I was happy to see our pictures when we were young, at least I know now that Janjan looks like my brother Roy and I look like my mother grrrrrrrr! Haha! I'll post the picture next week, promise.