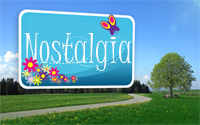 I know today is our Nostalgia Meme and I was absent last week, sorry Rose. lol. Last night, I was looking for our old photo albums. I have lots of pictures but unfortunately my old scanner is not working anymore, and I have no plans to buy a new one. I have pictures with our celebrities like Robin Padilla, Ruffa Gutierez, Kris Aquino, Sharon Cuneta, Ceasar Montano, Jestoni Alarcon, Jacklyn Jose, Coney Reyes Mumar, Maricel Soriano, Vina Morales, the late Frenando poe Jr., Eddie Rodriques and Johnny Wilson. May they rest in peace.
Janjan sometimes brought this photo album in the school. He is proud of me being a side kick actress. Waaaa..Yeah, I had short appearances on some movies like Myrna Diones Story with Kris Aquino, Pieta with Raymart Santiago, to name just a few, and the longest appearance was on Maricel Drama Special and Valiente, if you could remember these two teleserye way back early 90's I think. For me, it was a great experienced to act in front of the camera, saw myself on the big screen or on TV and I would never forget when the director shouted…5, 4, 3, 2, ACTION!
Thanks to Rose, the host of this wonderful meme and visit her for more Nostalgia entries today.