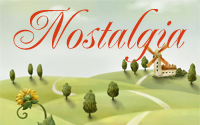 It's Nostalgia time once again. Thanks to Rose for hosting this exciting meme. Anyhow, here's my entry for this week.
My son was a hostage, oh no… not hostage, I pawned him, oh no, oh yeah, right, I pawned him. Here's what happened.
There was an induction of officers at Janjan's classroom when he was in Kindergarten 2. Janjan was the Prince Charming and all the officers must bring a food for them to eat after induction. I asked Janjan what do he likes to bring. He said a cake. So we went to Goldilocks, NCCC Mall branch. I let him choose which flavor he likes although I know that he loves chocolate cake. Well, nothing has change; he still chose the chocolate cake. We ordered and I asked the sales clerk to put some words on it like Induction of Officers, Class 2007-2008. Since it is chocolate, the printed icing color was white. There you go…it was indeed beautiful and yummier.
The salesclerk asked me then to pay the cake we ordered. When I got out my money from my pants pocket, oh my! San Bartolome, Santa Maria Bulacan, San Jose, California, I couldn't find my money, waaaaaa…and then I remember that I changed my pants before we left from the house. Oh my! I was starring at Janjan with my eyes so big and shocked. Janjan asked what happened. I told him that I forgot to bring my money. So, I told the sales clerk that I forgot to bring my money. The sales clerk was worried because he said, if I will not pay the cake and there was already a note on it, then the cake will be charged to all of them who were on duty at that time. So, to make them feel not being worried, I told them that I will go home, and I will just leave my son at the store. Ha ha. Janjan got mad and he doesn't like to stay, but I explained to him everything and gladly that he listened.
Again, I had another problem. It was a mall, not so near to our house and I need to ride a taxi because my father left us after he sent us to the mall. My father has no cell phone, my eldest son was in the school and I was not sure if I will get in a taxi, somebody was in the house to pay the taxi. So, what I did was to borrow money from one of the sales clerks, and since they are not allowed to bring money while on duty, it was the cashier who lent me money for my taxi. Ha ha. Well, when I came back from the house, Janjan and the sales clerks were smiling at me when they saw me that I was hurriedly walking to their store.
Lesson I have learned: I always check my pocket or wallet every time I went out of the house.