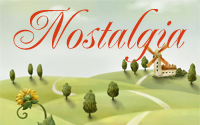 Last week, I was not able to join this meme for some inexcusable reasons. Lol. Anyhow, here's my entry for this week. Thanks by the way to Rose, the host of this marvelous Nostalgia Thursday meme. Muah!
The first time I visited Bohol, the home place of my mother was so exciting. The excitement was started on the boat. While sailing going to Bohol, I was overjoyed, pleasantly surprised the beauty of the nature. I love looking at the mountains and the very deep blue sea. When we got home, the excitement was gone because they have never had electric lights before, no water in the faucet, no toilet bowl when you poop (sorry), and no neighbors nearby. It was really a mountain. All you can see was the wide rice fields, vegetable farm, banana, guava, chicken, goats, pigs, and the carabao which I thought was a big pig.
When my mother's relatives learned that we arrived, all of them visited us in my grandmother's house. Each one of them wanted us to visit their house too. By the way, they were not leaving near to my grandparent's place. They walk from their place 3 to 5 miles to my grandparent's house. And when you ask them how far they walked, they will just use their lips to point the place where they live in.
It was the town fiesta when we visited. All houses had their own preparations for the feast. Each one of them invited us to eat in their house and since houses were not near to each other, and the only vehicle that we had was our slippers, so by the time we will get there, I was already thirsty. I am not a kind of person that loves to eat. So, I just look for drinks, whenever we visited a house to house but as a respect to their traditions, I just taste a little to their food. My mother enjoyed talking with her relatives while I was waiting for her. I would only talk if somebody would want to talk to me because I don't understood yet their language at that time. It has been a decade now since the last time I visited them. I wish sooner we will go back to this beautiful island in Bohol.
Click the button above if you want to join this wonderful meme.
(Photos taken from Bohol Beach Club website)