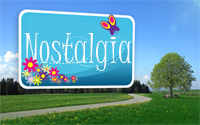 Wow, we are now on the 4th week…and I believe that this meme will be staying for long because once in awhile, we should remember the things in the past either bad or good. And looking back all good memories would definitely give you a smile on your face but we all know that we also have bad memories and we tried not to remember it. Unfortunately, we cannot bury them completely. You may forget it but in the corner of your heart, the memories were still there.
Anyhow, here's my nostalgia that I want to share with you now. I would like to share my first experience on traveling by air.
I was in my early 20's when I first boarded a plane. I was in Manila going back to Davao just for a visit. I usually board a ship when I visited my hometown. I was so excited when I was holding my plane ticket but at the same I was scared to get lost and landed in a wrong place.
It said on the ticket that I should be there at the airport two hours before my flight. Whew! I was there already four hours before my flight. Since I was too early for my flight, the check-in counter for Davao was still close. Gosh! I was so impatient for my time and I want to see what's inside the check-in area.
When our time had come, I was on the first line at the check-in counter because I run, it seems like I was in a hurry. I just want to make sure that I will not be left from the plane. The woman asked me if I have luggage, and I said yes but I told her that it was small, so I will just bring it with me.
After getting my boarding pass, I headed to the check-in area and had the final check-up for our luggage. At that time, there were no x-ray machines, it was all humans so when she opened my luggage, she found a lotion, colognes etc. and she told me that those things are not allowed to carry inside the plane.
I said what??? I can't carry those things? What would you like me to do; I will leave here all the liquid stuff? I asked (darn stupid woman, that's me). She then realized (I think) that I was a first timer passenger, so she explained to me everything about my luggage.
I was shy acted that way. I thought I will leave all those liquid stuff at the airport. Well, since I need to follow the guidelines, I went back to check-in counter. When everything was done, I seated inside, watching all the people inside while waiting for the boarding time.
A few minutes before our boarding time, it rained so hard. (wow, inulan ako) So, when it was our time to board the plane, there was a man giving as an umbrella going to the plane and at the bottom of the stairs, there was also a man picking up our umbrellas.
The steward/stewardess greeted us so sweetly. While we were on the air already, gee, I was freezing to death. I almost asked a blanket or anything that I can cover to my body but then as I was looking at the people inside, they were calm, as if we had the normal temperature inside, so I just stayed on my seat with my hands between my legs until we landed in Davao. Until now, whenever I fly again, even if the weather is good, it will surely rain as soon as I am getting inside the airport either on departure or arrival time.
Sorry guys, it is kinda long and I can't make it short. You blame that to Rose, the author of Nostalgic Marveling and the host of this exciting meme. (lol) Muah! Thanks to you Rose. Anyway, for more memorable stories, just click the badge above.